The Girls health focus group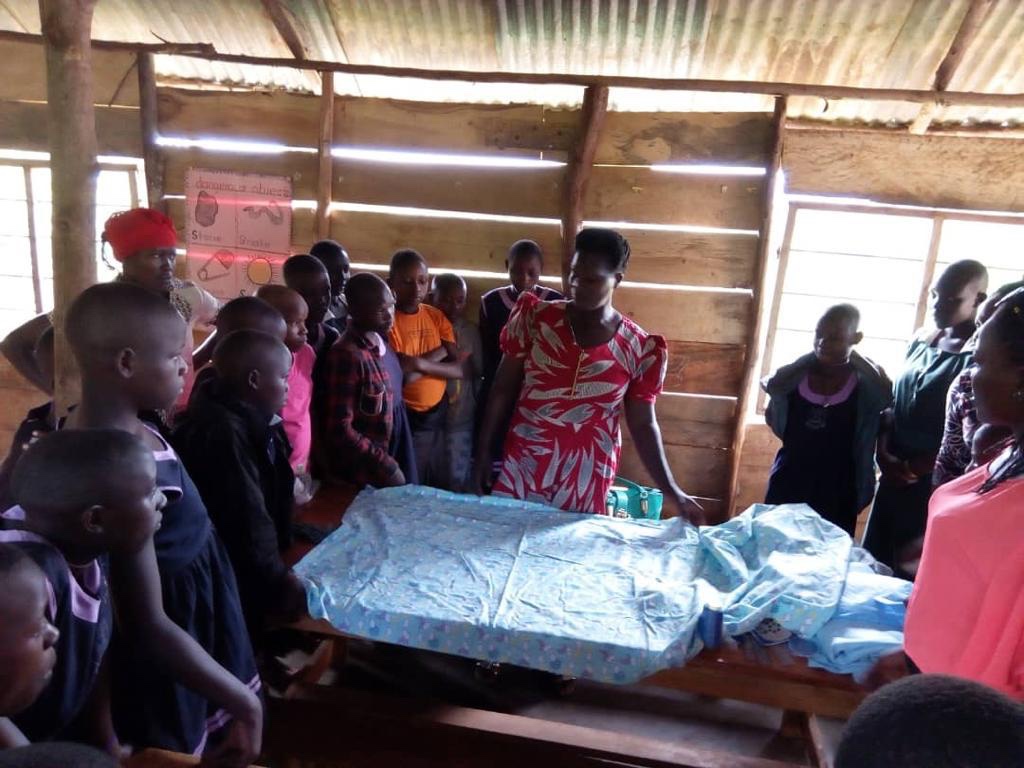 Girls Health Group
The women's group started in 2017. when we first identified a need for the young women at the school. Girls entering the age of menstruation did not have any access to appropriate support they needed. It was difficult to discuss this with Elijah as he had never thought of this 'need' at the school. Kathleen soon realised that many girls during their monthly menstruation were absent from school, they didn't have the proper protection and were often ridiculed because of the blood stains on their clothes. 
Many of these girls were vulnerable and often at risk when not in school. 
Kathleen approached this from the girls perspective and discussed this with Elijah and both agreed that there was an urgent and great need of support required for the girls. Elijah's discussed this with one of his friends (Rachael) who agreed to help out at the school and started up a small group. 
Initially, due to the distance, It was difficult for Kathleen to work with Racheal as much as she would have liked to. However, they eventually succeeded in setting this group setup up and running. 
The group proved the be extremely successful and has now become a very important part of the curriculum at the school. 
The poverty in the village was another challenge and a different approach had to be found, collectively the group found a pattern for making re-usable pads as they would be more financially viable and more environmentally friendly. (Some of the photos on this page will show the girls making their own pads)
This led to other young mothers around the school getting very interested in hearing how they may benefit and be supported too. 
After a few months Rachael moved away from Toowa. She was replaced by Hannah along with Elijah's sister and assisted by two of our U.K. sponsors (Jeanette and Gemma). They personally helped and supported financially too. 
A  WhatsApp Health Group page was set up by Gemma, Hannah and Jeanette  to support the girls.
 Soon black underwear and bras were supplied along with Soap and toiletries  or money donated to buy things that were needed for personal care. We also sent some reusable pads of a type used by women in this country. We soon discovered that although the reusable pads were a great idea the girls found it difficult to find the privacy to wash them at home with lots of other people around and sometimes the limited amount of water they had access to. 
It was evident that the support for the girls was an enormous breakthrough. We had identified that there was a lack of understanding about their own young bodies and addressed with not only with financial support but also backed with products and above all education. 
Elijah involved the teachers and now the girls are all catered for at the school. The school keeps a supply of sanitary pads and no longer have to stay off school because of onset of periods. 
Gemma ran a sponsored walk which  raised a couple of hundred pounds. With this money,  Lots of underwear, pads were sent out to the girls and money sent to Elijah to purchase basins, soap, deodorants, additional pads and underwear. The pads are now an essential purchase for the school along with the other educational materials which are supplied. 
This only left one thing, how to dispose of used towels? so, An incinerator was built at the school where the girls could dispose of their pads at the end of the school day. 
Hannah has also moved away from Lugazi but thankfully the teachers have been brought up to speed with the children needs supported by the group and continue to support the girls also. 
Jeanette and Marion Duncan (another supporter of the charity) now supports this cause financially by sending a monthly amount to the group. This ongoing financial support will ensure that the school will always have a good supply of sanitary towels and products required for this project. 
With the "Health Group for Girls" to turn to along with the support from the teachers, the girls no longer have the embarrassment of stained clothing and absences from school. We feel that this has been one of our biggest successes at the school. 
We are so grateful to Elijah who has facilitated this support for the girls. 
A  big 'Thank you' also to Rachael, Jeanette, Gemma, and Hannah.